CASA is the Court Appointed Special Advocate program. It is a non-profit organization that initiated in Will County in 1993. The program recruits, trains and supervises volunteers to represent the best interests of children in abuse and neglect cases in Will and Grundy Counties. CASA volunteers act as the voices of these children, helping to navigate the juvenile court system and ensuring their needs are met. CASAs become their children's primary sources of hope for finding safe, permanent homes.
Adult (prefer at least age 23) who completes screening requirements.
Must demonstrate general computer competency in Microsoft Word and e-mail.
Must undergo a criminal history check, personal reference checks and a personal interview.
Must complete 30 hours of pre-service training.
Must have a sincere interest in the welfare of children, good verbal and written communication skills.
Must have some flexibility with his or her schedule, and the time to serve as a child's advocate.
How do I apply to become a CASA?
Anyone may apply to serve as an advocate for the CASA/GAL program by submitting an online application. We ask that you provide three references. Applications are reviewed by CASA staff, and if a candidate seems to be a good fit, they will be asked to schedule a video interview.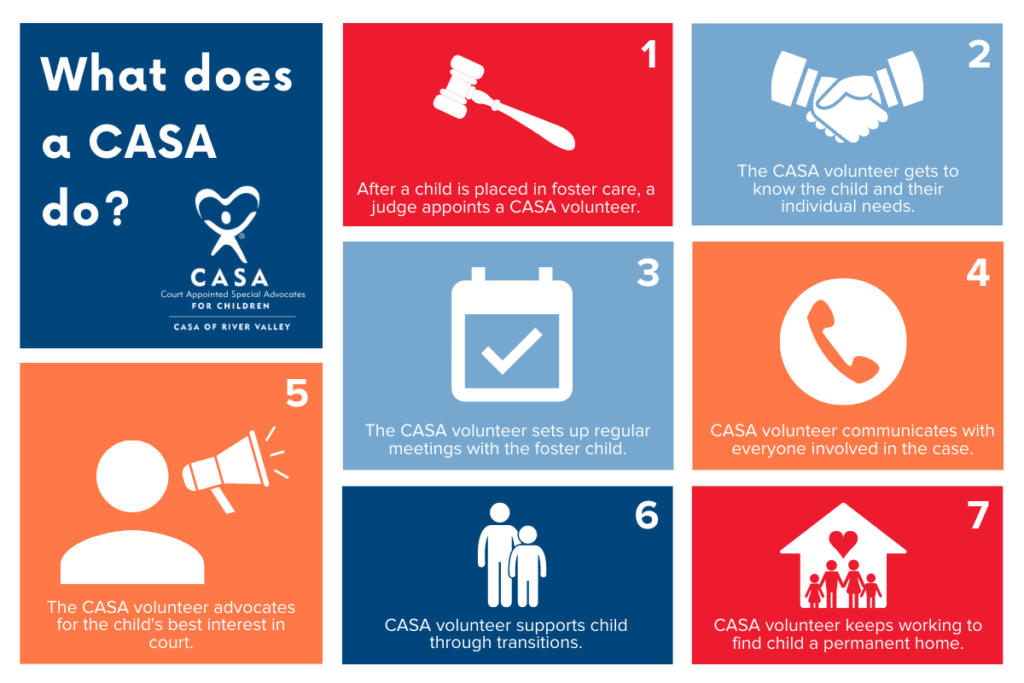 How much time is involved?
A CASA's volunteer time varies with each case, and each week. Hours are flexible, except when a court hearing is scheduled. A CASA can expect to spend approximately 5 hours a month working on a case. The majority of CASA volunteers have full or part-time jobs and are able to meet their advocacy responsibilities. Due to the sensitive nature of our work with children, we ask our volunteers to provide a 2 year commitment.
How does CASA benefit the children?
A CASA volunteer has one case at a time and can dedicate complete attention to his or her particular child(ren).
A CASA can often bring a "common sense" point of view to the juvenile courts system and can offer an independent perspective to the case.
Studies have shown that a child with a CASA volunteer is more likely to receive services than a child without
Children with a CASA are more likely to find a safe, permanent home and are half as likely to re-enter foster care
A child with a CASA volunteer is more likely to graduate high school
CASA volunteers provide consistency and stability for the child throughout the proceedings. The judge may change, caseworkers may change, but the CASA may be the only consistent person a child has throughout the court process.
Additionally, every CASA of River Valley volunteer demonstrates these common characteristics in advocating for a child in need:
Compassion
CASA of River Valley volunteers become successful advocates when they connect with and understand each child they represent.
Commitment
CASA volunteers best represent their children when they commit to the process of guiding their children to safe, permanent, loving homes.
Service
Successful CASA volunteers see the decision to become an advocate as an opportunity to give selflessly of their time and energy.
CASA of River Valley
3200 McDonough Street
Joliet, IL 60431
815.730.7072
© CASA of River Valley   All rights reserved.

CASA of River Valley is a United Way agency, and a member of the National CASA Association. CASA of River Valley is an Equal Opportunity Organization.