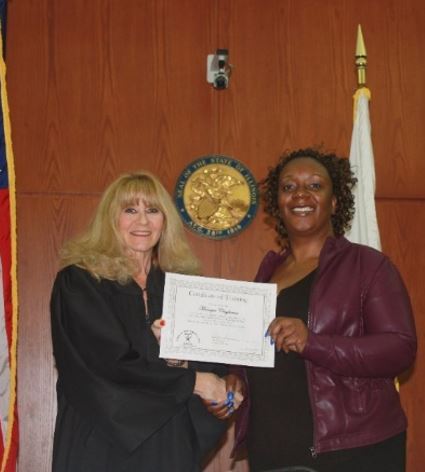 Monique Clayborne
University of St. Francis
Bachelor's in Social Work
Graduating May 2019
I think I've been a social worker for a while now, just unofficially. I was a volunteer at Mutual Ground, as a hospital advocate for women who have been sexually assaulted. I've also been the youth director at Second Baptist Church for the past three years.  It was after speaking to my mentor, who is a social worker, that I realized that what I have been doing and what I want to continue doing is social work. 
I really want to encourage people to volunteer. There are only so many social workers in the world, but everyone has the ability to help others. You don't have to be a social worker to help other people. 
Social work is more complex than you'd think. There are theories, systems, and most importantly self-determination. Everyone has self-determination. Social workers don't fix people, they advocate and act as a resource for people to better themselves. Social work is also about understanding the systems at play and the injustices that people may face. There are so many layers of injustices and inequalities within our society. It is our job to interpret policies and to be the voice for the disadvantaged in order to speak up for their basic human rights.
I like that I'm working to get to the truth at my internship. I'm learning that there are some difficult truths, the hardest being that what the best is for the child, is not always going to be what we hoped it would be. We can't fix everything. I've seen a case where we've given all the guidance to parents in order to get them to a self determining state to be better parents. but instead they determine that being a parent isn't something they can do. It's heartbreaking for us and the children, but we have to make the best out of that situation. It is our responsibility to the children to fight for their best interest no matter what happens. 
As an intern, I feel like I have much more authority than when I was a volunteer. I know so much more now with my classes and I have more confidence in my advocacy. After my internship, I'm pursuing a clinical and child welfare specialization for my master's degree. I also plan to stay on all my current cases as a volunteer.
Interested in learning more about our intern program? 
CASA of River Valley
3200 McDonough Street
Joliet, IL 60431
815.730.7072
© CASA of River Valley   All rights reserved.

CASA of River Valley is a United Way agency, a recipient of the Will County Community Development Block Grant and a member of the National CASA Association. CASA of River Valley is an Equal Opportunity Organization.